Flood Damage in Chattaroy? Leave It to SERVPRO for Restoration
7/9/2019 (Permalink)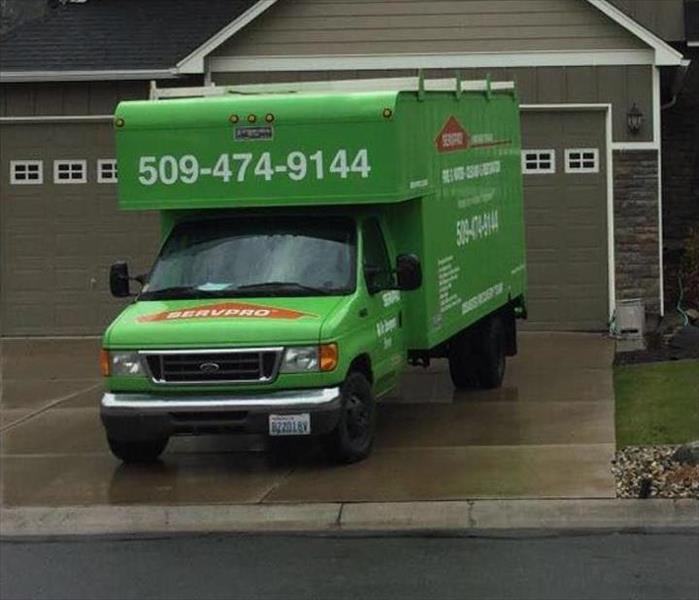 Happiness Is a SERVPRO Vehicle Parked in Your Chattaroy Driveway after a Flood--Already Restoration Underway!
What Challenges You Might Face after Flood Damage in Your Chattaroy Home
Flooding leads to severe damages, especially when it is the result of a severe weather event such as a storm. Apart from the water pooling on the floors of your house, structural damages are also likely to occur. Strong winds or heavy debris such as fallen tree branches can puncture holes in your structure. These and other challenges make it harder to deal with the damages left by flooding in Chattaroy. Professional flood damage restorers help because of the extensive experience they have dealing with similar incidents.
Areas affected by flood damage in your Chattaroy home are likely to be murky because of the silt, mud and other soils dissolved in the floodwaters. It is a serious challenge because the contaminants pose health risks to anyone that touches them, yet removing the debris and cleaning the affected areas is a crucial aspect of the restoration process. PPE, Personal Protective Equipment, is the answer to this challenge because they allow restorers to wade into the murk immediately. Our SERVPRO crews rely on a wide range of protective gear including full body suits, rubber boots, respirators, gloves, and other equipment allowing us to handle all murky situations conveniently.

Flooding causes various damages to the building materials and contents in a house. Determining what to dispose and what to save can be challenging. Disposal is necessary for heavily porous materials such as carpets exposed to groundwater even when there are no other physical damages because of contamination risks. A thorough cleaning helps save other non-porous items. Our SERVPRO team includes CCT, Carpet Cleaning Technicians, and RRRP, Lead-Based Paint Activities and Renovation experts who handle the cleanup and restoration necessary with ease.

Removing all water from a flooded property is a challenging task requiring different approaches to restore it to the preloss conditions. After extracting any standing water, there is a need to dry wet materials and restore normal humidity levels. Our SERVPRO team uses air movers and dehumidifiers dry wet materials and restore normal humidity levels.

You can deal efficiently with any issues arising after your Colbert, Chattaroy and Spokane Valley property floods by involving a professional team. Call SERVPRO of Northeast Spokane to assist. You can reach us at (509) 474-9144 any time. We're Faster To Any Size Disaster.
Local information right here.